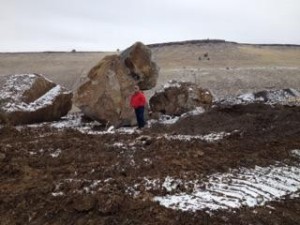 Our mission is to provide work environments where our employees can meet their potential and thrive in an atmosphere of excellence. We strive to be the industry standard in service to our customers. We maintain a superior level of integrity in interactions with business partners and associates. We appreciate our achieved success and we conduct our business as model corporate citizens. Learn more about our team, below.
Scott Andrews, Managing Partner – Scott brings over 35 years of experience in mineral mining to the application and development of Cascade Minerals as an all-natural remineralizing soil booster with the benefits of volcanic basalt. Prior to taking over management of Cascade Mineral Products, Scott managed mineral mining and processing operations in Central America, throughout Canada and in all areas of Alaska.
Rich Affeldt, Senior Agronomist – Rich holds an M.S. in agronomy from the University of Wisconsin-Madison and has served as an assistant professor at OSU's Central Oregon Agricultural Research Center. As chief agronomist at Cascade Mineral Products, Rich is closely involved in product development, sales support and educational training on the topic of natural soil amendments. Visit our FAQ page to learn more.
Chuck Canham, Factory Representative – Chuck has been involved in sales and marketing throughout his entire career. He is a published author and the inventor of multiple products that are sold worldwide. Having experimented with rock minerals for many years, he helped bring Cascade Minerals to market and educates audiences on the benefits of the product through public speaking and other engagements. Contact him at chuck.canham@cosi.ag

Terri Alexander, Customer Service – With several years of customer service and logistics experience with Leatherman Tools and Hewlett-Packard, Terri fields the daily service calls and purchase orders for Central Oregon Basalt Products. She can be reached at terri.alexander@cosi.ag
Harrison Hall, Office Technician – Harrison brings several years of IT experience, management and customer service to the team. He helped with the launch of the all-natural cleaning product Veraclean in the Northwest and now works behind the scenes at Central Oregon Basalt Products keeping invoices moving, computers working, and assisting customers with questions. Contact him at harrison.hall@cosi.ag