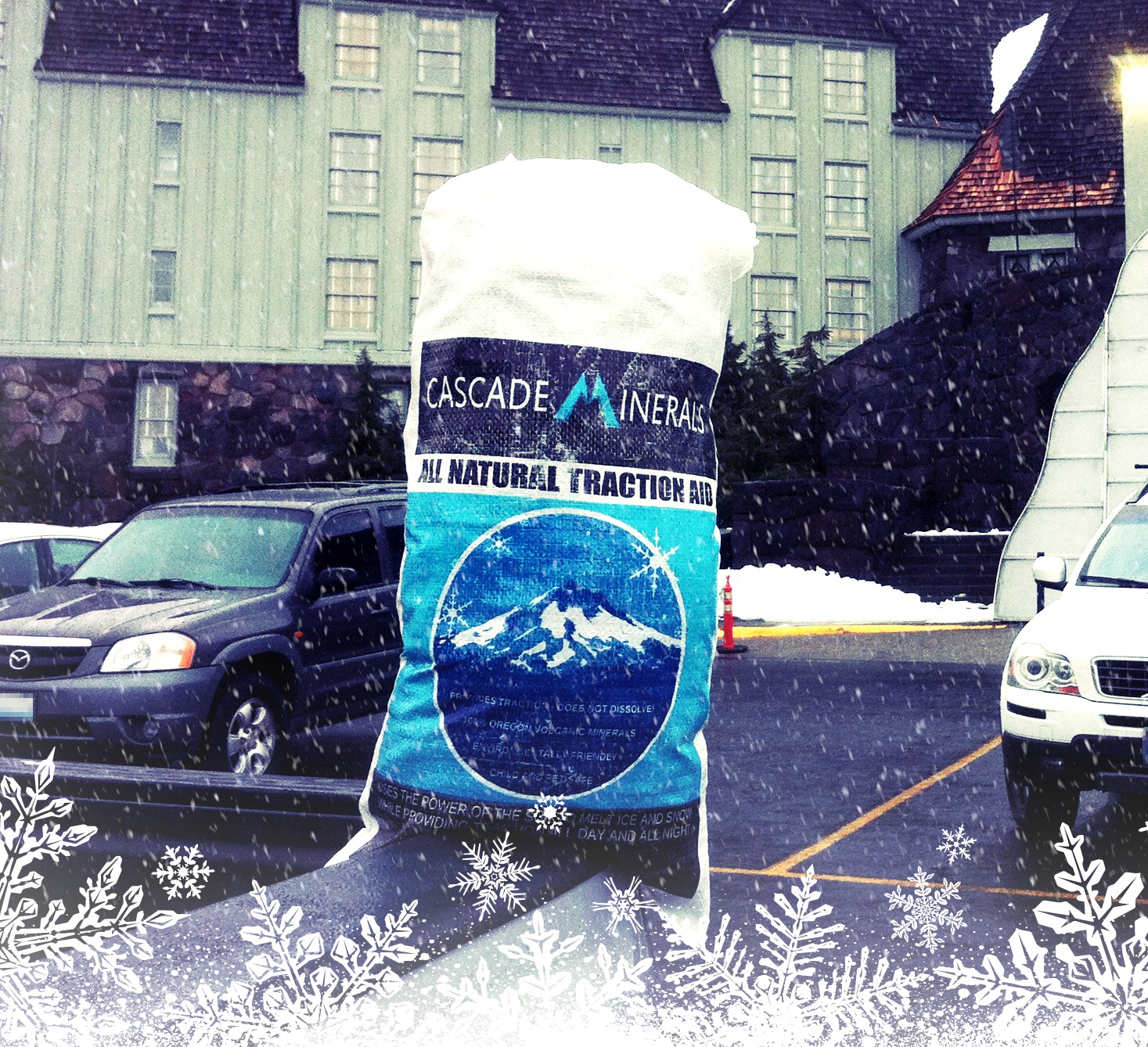 As we write this, an early Arctic blast is sweeping across the country bringing snow and freezing rain. Judging from the weather predictions, businesses, municipalities and homeowners will face a busy season of trying to prevent icy winter slips, slides and falls.
The good news is that there are all-natural alternatives to rock salt and harsh chemicals, which can stain and corrode sidewalks and driveways—not to mention kill surrounding plants, cause long-lasting damage to soil, and endanger people and pets.
For people who need superior traction and who care about protecting the planet, Cascade Minerals has a new traction product made of the same all-natural volcanic basalt found in our Remineralizing Soil Booster. A slight difference is that the volcanic basalt, which still comes from the mountains of Central Oregon, is ground in such a way to provide excellent traction for cars, trucks and pedestrians.
How It Works
Unlike other products, Cascade Minerals' new traction product doesn't dissolve. It will turn ice and snow black, causing the ice and snow to melt during the day and leaving behind a layer of finely ground volcanic rock to provide traction.
By its very nature as ground volcanic rock, our new traction product digs into ice and snow and provides "instant grip" which makes it essential for carrying in a car or truck for winter emergencies.
The best news of all? Cascade Minerals' new traction product actually delivers nutrition in the form of essential minerals and trace elements to the soil and the surrounding plants, working the same magic as our organic Remineralizing Soil Booster (which is OMRI Listed for organic production). And with no synthetic or man-made materials, all of our products are safe to use around kids, pets and other wildlife.
Our product is so safe and effective, that iconic Timberline Lodge has ordered it for the winter (see accompanying photo).
The Benefits
Cascade Minerals' all-natural traction product:
Provides better and longer-lasting traction than sand and most chemicals
Helps prevent damage to sidewalks, streets and property
Delivers essential nutrients to surrounding soil and plants
Contains no chemicals or man-made additives
Is safe to use around children and pets when used as directed
Goes a long way for relatively little cost
So there's more ice and snow on the way? We say, "Bring it on!"